Estamos chegando ao final de 2019, e no próximo mês vamos receber os dois últimos jogos gratuitos da PS Plus, ao longo do ano tivemos 24 títulos disponibilizados para o PlayStation 4.
Vamos listar aqui os jogos de cada mês, todos os jogos são muito bons, grandes títulos fizeram parte dessa lista como Mad Max, Batman: Arkham Knight, Call of Duty: Modern Warfare Remastered e muitos outros.
Veja a lista completa, de todos os jogos da PS Plus 2019
Janeiro
Fevereiro
Março
Call of Duty: Modern Warfare Remastered
The Witness
Abril
Maio
What Remains of Edith Finch
Junho
Sonic Mania
Borderlands: The Handsome Collection
Julho
Detroit Become Human
Horizon Chase Turbo
Agosto
Sniper Elite 4
WipEout Omega Collection
Setembro
Batman: Arkham Knight
Darksiders III
Outubro
Novembro
Dezembro
Monster Energy Supercross
Vale a pena assinar a PS Plus
Caso você ainda não é assinante da PS Plus, você pode fazer aqui. Existe planos mensais, trimestrais e anuais. Os benefícios da PS Plus incluem:
Jogos grátis a cada mês sem nenhum custo.
Acesso aos modos multijogador do PlayStation 4
Descontos exclusivos para assinantes PS Plus
100 GB de armazenamento na nuvem para salvar seus jogos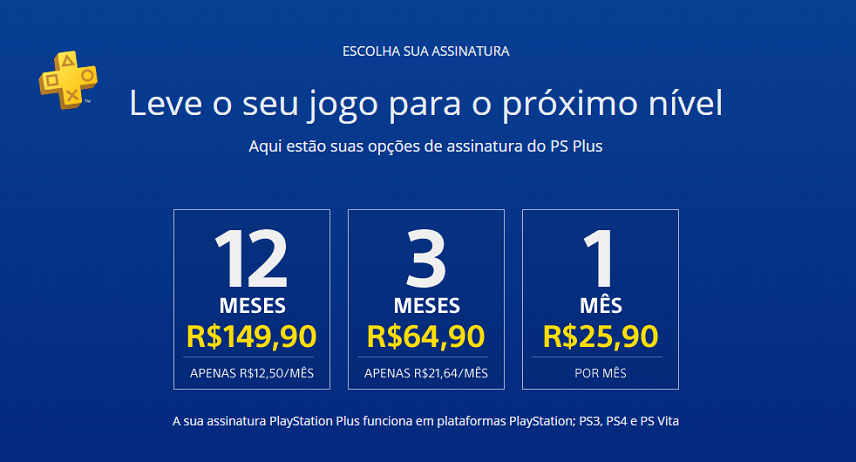 2019 foi incrível, tivemos grandes títulos, uns aguardaram mais que os outros, mas isso é natural. Que 2020 venha com grandes novidades, e que a PS Plus do próximo ano seja incrível e traga grandes jogos para os assinantes.