Fortnite já trouxe diversas skins de franquias como Star Wars, John Wick e Vingadores Ultimato. Desta vez não se trata de nenhum filme de cinema, mas sim de um dos streamers mais famosos de Fortnite.
I've dreamt of having a skin in Fortnite since I started playing the game. Today, my dream becomes reality. Get the Ninja Fortnite Skin in the Epic store Thursday 6 p.m. CST-Sunday 7 p.m. Don't forget to use code NINJA! #NinjaSkin #EpicPartner pic.twitter.com/xTn9UlbkGI

— Ninja (@Ninja) January 15, 2020
O streamer Ninja ganhou a sua própria skin no Fortnite, no twitter Ninja compartilhou a novidade com os seus seguidores. Ninja disse que sempre sonhou em ter uma skin sua dentro do jogo, e agora isso é realidade.
A Epic games tem uma parceria forte com o streamer, pois o mesmo ajudou a popularizar o battle royale, durante as suas lives.
Sem dúvida a skin está muito bonita, com um visual que remete muito ao Ninja, com seus cabelos azuis.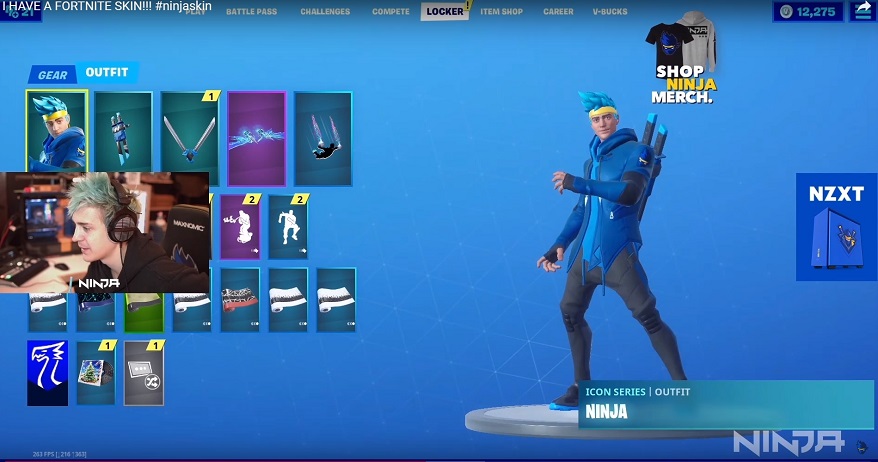 A nova skin do Ninja estará disponível hoje na loja (16), além skin que possui quatro variações, uma mochila, dança e katanas fazem parte do conjunto "Ninja", parabéns ao Ninja. Uma das maiores homenagens que um jogador e fã poderia receber, é ter a sua própria skin em seu jogo favorito.