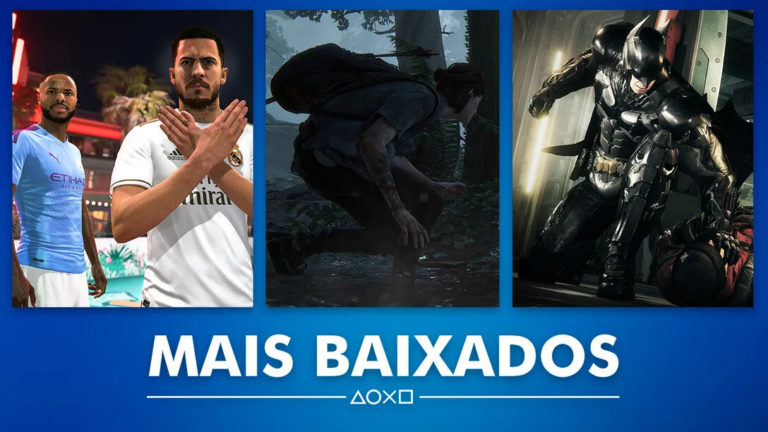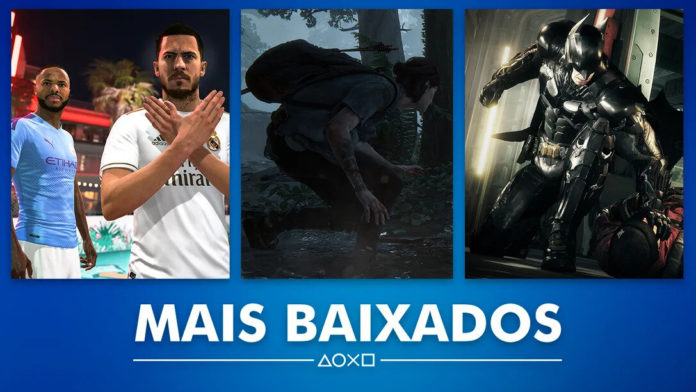 Todo mês a Sony traz a lista dos jogos, mais baixados de cada mês. Junho foi embora, mas foi um mês muito aguardado pela comunidade, pois foi o lançamento de The Last of Us Part II.
Assim como nos meses anteriores, FIFA 2020, está em primeiro lugar, como o jogo mais baixado na PlayStation Store Brasileira. O segundo lugar ficou para The Last of Us Part II, e a medalha de bronze ficou com Batman: Arkham Knight.
Entre os jogos Free to Play, o destaque ficou com Call of Duty: Warzone, sendo o jogo mais baixado entre os jogos gratuitos do PlayStation 4.
Confira a lista completa, dos jogos mais baixados na PlayStation Store no mês de junho
PlayStation 4
| | |
| --- | --- |
| 1 | EA SPORTS FIFA 20 |
| 2 | THE LAST OF US PART II |
| 3 | BATMAN: ARKHAM KNIGHT |
| 4 | GRAND THEFT AUTO V |
| 5 | BATTLEFIELD 1 |
| 6 | DAYS GONE |
| 7 | CALL OF DUTY: MODERN WARFARE |
| 8 | MARVEL'S SPIDER-MAN |
| 9 | THE LAST OF US REMASTERED |
| 10 | ASSASSIN'S CREED ORIGINS |
| 11 | MINECRAFT |
| 12 | INJUSTICE 2 |
| 13 | MORTAL KOMBAT X |
| 14 | GOD OF WAR |
| 15 | NEED FOR SPEED PAYBACK |
| 16 | F1 2019 |
| 17 | ASSASSIN'S CREED ODYSSEY |
| 18 | RED DEAD REDEMPTION 2 |
| 19 | DARK SOULS III |
| 20 | MINECRAFT DUNGEONS |
PS VR
| | |
| --- | --- |
| 1 | ASTRO BOT RESCUE MISSION |
| 2 | CREED RISE TO GLORY |
| 3 | SUPERHOT VR |
| 4 | BLOOD & TRUTH |
| 5 | THE WALKING DEAD: SAINTS & SINNERS |
| 6 | BEAT SABER |
| 7 | FARPOINT |
| 8 | THE ELDER SCROLLS V: SKYRIM VR |
| 9 | GORN |
| 10 | FIREWALL ZERO HOUR |
Free to Play
| | |
| --- | --- |
| 1 | CALL OF DUTY: WARZONE |
| 2 | FORTNITE |
| 3 | RACING BROS |
| 4 | EFOOTBALL PES 2020 LITE |
| 5 | DESTINY 2 |
| 6 | APEX LEGENDS |
| 7 | BRAWLHALLA |
| 8 | DAUNTLESS |
| 9 | PALADINS |
| 10 | DON'T BITE ME BRO! |
DLCs
| | |
| --- | --- |
| 1 | FORTNITE – THE YELLOWJACKET PACK |
| 2 | FORTNITE – THE IRIS PACK |
| 3 | FORTNITE: SAVE THE WORLD – STANDARD FOUNDER'S PACK |
| 4 | CALL OF DUTY: WARZONE – STARTER PACK |
| 5 | DEAD BY DAYLIGHT: SILENT HILL CHAPTER |
| 6 | DRAGON BALL FIGHTERZ – GOKU (ULTRA INSTINCT) |
| 7 | RESIDENT EVIL 2 ALL IN-GAME REWARDS UNLOCK |
| 8 | MARVEL'S SPIDER-MAN: THE CITY THAT NEVER SLEEPS |
| 9 | GTA ONLINE: CRIMINAL ENTERPRISE STARTER PACK |
| 10 | FORTNITE – CHAPTER 2 S3 BATTLE PASS GIFT TOKEN |