A Capcom apresentou Resident Evil 8: Village durante o evento de revelação do PS5 na semana passada, confirmando meses de rumores sobre sua história e cenário. O título de terror e sobrevivência será lançado para PS5, Xbox Series X e PC, pulando a atual geração de consoles. E de acordo com o insider Dusk Golem, que vazou inúmeros detalhes do novo game, existe um motivo para que o lançamento ocorra somente na nova geração.
(2/3) load times because the game has you travelling through most of the Village and had a lot of load zones. Because there's a bigger focus on exploration this would lead to the last-gen console versions having notable issues, and it was holding back how pretty they could make

— AestheticGamer aka Dusk Golem (@AestheticGamer1) June 13, 2020
Ao que tudo indica, aparentemente, o foco do jogo na exploração leva a problemas nos atuais consoles. No Twitter, Golem afirmou: "Eu recebi alguns esclarecimentos sobre por que eles fizeram o RE8 somente para a próxima geração, e não entre gerações, como anteriormente. Com a revisão atualizada da fidelidade gráfica que eles estão realizando (ainda em andamento), a maneira como RE8 foi projetado leva os consoles de última geração a ter muitos carregamentos pop-in /de textura/de carregamento, porque o jogo faz você viajar a maior parte do tempo."
(3/3) certain scenes. So they decided to drop the last-gen versions of the game to make it so the game had no loading at all (not limited by last gen hardware) and push the graphic overhaul further without the limitations of last-gen tech in mind.

— AestheticGamer aka Dusk Golem (@AestheticGamer1) June 13, 2020
"Como há um foco maior na exploração, isso causaria problemas notáveis ​​nas versões de console de última geração, impedindo o jogador de ver o quão bonito graficamente podiam ser certas cenas. Então eles decidiram abandonar as versões de última geração para que o jogo não fosse limitado pelo hardware da atual geração e reforçar a revisão gráfica nos novos consoles."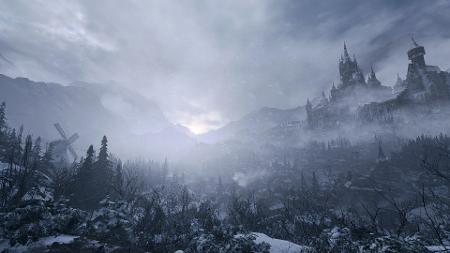 Isso faria sentido, especialmente considerando as capacidades dos consoles da atual e da próxima geração. De qualquer forma, resta lamentar a não chegada do novo game aos consoles atuais, e ficar atento para ver o quanto a exploração foi expandida em relação a Resident Evil 7.
Resident Evil 8: Village está programado para ser lançado em 2021.