Ao que tudo indica, a Activision já está se preparando para anunciar oficialmente seu próximo Call of Duty. Depois de aparecer na PlayStation Network, o codinome "The Red Door" agora está na Microsoft Store.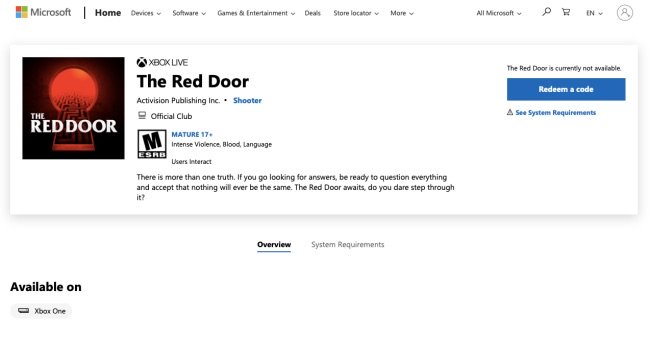 A descrição diz: "Há mais de uma verdade. Se você procura respostas, esteja pronto para questionar tudo e aceitar que nada será o mesmo. A Porta Vermelha te espera, você ousa passar por ela?
Ele está listado como shooter, publicado pela Activision e tem um tamanho aproximado de 81,65 GB. Não há nenhuma referência clara a franquia, mas por se tratar de um shooter, é natural que os fãs pensem automaticamente em Call of Duty.
Vale lembrar que a Activision declarou, em maio, que o próximo título da franquia Call of Duty estava a caminho, e seria lançado este ano. Ainda não se sabe se os planos foram alterados nesse meio tempo. De qualquer forma, vale a pena ficar de olho no que está por vir.